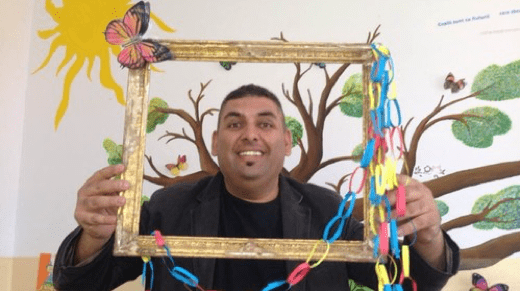 Doru Dima
Mentee
(Roumania)
Short profile of their background and motivation to become a mediator Challenges faced and overcome.  Advice to others.
"Me sem Rom" (I am a Roma) is a column that contains several episodes with the stories of some Roma who succeeded in life despite discrimination and indifference to the Romanian state. VICE wants to show those who have not forgotten where they came from and today they are doing their best to help their disadvantaged communities in which they grew up.   Doru Dima is 40 years old and is a school counselor in two communities in Brașov County. His goal is to help Roma children have more self-esteem, because he knows how difficult it has been for him without encouragement and support.   "Without trust, you feel like you're not good and you can't cope, so everything collapses around you."   Despite many obstacles, Doru continued his studies after initially dropping out of high school. Today is approaching the completion of doctoral research on the conversion of Roma to neo-Protestantism. A strong phenomenon present in the life of the Roma, but too little analyzed.   Over the years, Doru has collaborated with many national and international organizations and was program director at the Duke of Edinburgh Award, a program sponsored by Prince Philip of Great Britain. All in order to help children from vulnerable communities, given that, statistically, one in two children in Romania lives in poverty.   I talked to Doru about his childhood, about his studies, but also about his work in recent years, in communities that are too often invisible to the state and society.
VICE: How was your childhood?
Doru Dima: I was born in Baia Mare, raised in Ormeniș, 45 kilometers away from Brașov and I spent part of my childhood in Făgăraș. When I started growing up, I missed my parents, I was raised by my grandparents and from a material point of view I was not doing very well. I excelled at school, but no one encouraged me, I didn't hear I could get far. My grandparents did street business, that's their ancestral occupation. When I finished the seventh grade, I went to the high school in Baraolt, being closer to Ormeniș. At that time, I was admitted to high school, but no one came with me, so at 14 I went alone. I failed the admission, but I entered another high school in Făgăraș. Although I was studying well, I dropped out of school for a few years. I was so upset about it that one day I decided to finish my studies. I signed up for the evening and got a high grade in high school.
Were you already an adult?
Yes, I was already an adult, I worked as a public guardian, I was married: I was 24 and she was 20. And my wife comes from a family of fiddler Roma, just like me. She was not encouraged to finish her studies either: although she had finished high school, she did not take the baccalaureate. We decided together to continue our studies. I enrolled in the Faculty of Sociology, full time. I was commuting 45 kilometers to college. There were days when I only ate fluff, but I was happy to continue my studies. I managed to be discovered by my teachers in the first year and I won the grand prize at a scientific session on visual sociology. Then came the appreciation from colleagues. A colleague used to say to me: "Doru, I know Roma, but, excuse me, we call them gypsies – they are the only ones who sit in containers and spit". They had prejudices against the Roma.   I graduated with an average of over nine and continued my master's degree in Community Assistance and Development. I finished my master's degree and also enrolled in a doctorate.
What is the topic, what have you noticed from the research so far?
I did a survey among the Roma elite on Facebook, I asked what topic would be interesting and Magda Matache told me that the part of converting Roma to neo-Protestantism is an uncovered topic. I have a lot of converted relatives, especially Pentecostals, so the topic got me thinking. I said yes, being born again – that's what conversion is called – that changes the person, can make racism, prejudices disappear, and people who go through this experience begin to appreciate education, stop drinking alcohol, are no longer domestic violence. I had a few hypotheses and that's where I started the work. Given that I do not have specialized literature, the research is extensive and I hope to complete it in the next period.
Did his wife continue her studies as well?
Anca finished Primary and Preschool Pedagogy at the "Babeș Bolyai" University of Cluj, at ID, because Andra had already been born. At the age of two, he went to classes with Anca. Now Andra is a national and international Romanian language Olympian. My wife is a tenured teacher in Ormeniș, where she started as a school mediator. After several difficulties, he managed to teach the Romani language at school, did his second faculty, Romani-Latin, and now has national and international Olympic students in the Romani language.   My college classmates used to say to me, "Doru, you're not a gypsy."