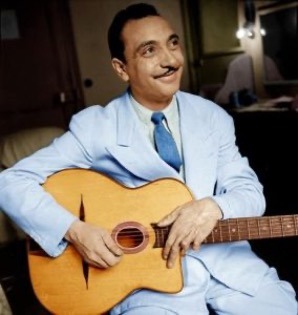 Django Reinhardt
Jazz man (1910-1953)
Django Reinhardt was one of the greatest jazz guitarists in Europe, his unique style remaining unmatched to this day. He was born in Pont-à-Celles, Belgium, to a "Sinti" Roma family. Django's childhood was closely linked to the caravan and life in the trailer. Django was attracted to music from the first years of his life, being surrounded by music performed by his brothers and his father, who had founded a band in Paris. At first, Django learns to play the violin. He was 12 years old when he received a banjo guitar as a gift, which he practiced alone, imitating the placement of his brothers' or various guitarists of the time fingers on the strings while occasionally watching them perform. At the age of 15, he was already singing in the streets or terraces of Paris with his brother, Joseph. In 1927, Django married Florine Bella Mayer, a Roma girl from the same Manoush community.
In 1928, Django made his first album, accompanying accordionists Maurice Alexander, Jean Vaissade, Victor Marceau, along with singer Maurice Chaumel. With this album, Django's name becomes widely known, so the British Jack Hilton comes to Paris to listen to him. Hilton offers him a job, which he accepts. Destiny, however, had another path for Django before he actually began collaborating. On the night of November 2, 1928, a strong fire broke out in the trailer that he and his wife had in the caravan. Django suffers severe burns on his hands and feet, so he could not use two of the fingers of his left hand, and for his right leg, the doctors proposed an amputation. Django refuses the operation and after 18 months of hospitalization, he leaves the hospital. He returns to the guitar, inventing a repositioning of his fingers on the strings. In the following years, he approached a wide range of musical styles, approaching the American jazz represented by James Armstrong and Duke Ellington.
Django Reinhardt sang and recorded with the greatest jazz musicians, memorable being the performance with Louis Armstrong in a radio show broadcast in France. Reinhardt has recorded over 40 albums. He has also recorded with American jazz musicians such as Coleman Hawkins and Benny Carter. His best-known compositions include "Minor Swing", "Daphne", "Belleville", "Djangology", "Swing '42" and "Nuages".
From 1934 to 1939, Django founded in Paris, together with the violinist Stéphane Grappelli, the band "Quintette du Hot Club de France", a jazz band, the first of its kind that had the guitar as the main solo instrument. He also co-founded the string ensemble "Quintette" with his brothers, Joseph, Roger Chaput and Louis Vola.
The outbreak of World War II causes the artist to leave the United Kingdom, where he is on tour with his friend, Grapelli, who chooses to stay in London. He returns to France, where he tries to continue his music. Reinhardt feels the danger, finding himself in a catastrophic situation, being a Roma and a jazz musician, both characteristics being abolished by the Nazi ideology. The Roma were a target, but family members had managed to escape from Paris. Django Reinhardt's attempts to leave Nazi-occupied France failed, he was caught on the border with Switzerland and sent back to Paris, where he remained until the end of the war. One of his songs, composed in 1940, "Nuages", became the unofficial anthem of Paris as a symbol of freedom.
Django's interpretive style has influenced most traditional jazz performers in the world. In his memory, jazz music festivals are organized annually, both in Europe and in the USA. Every year, the "Django Reinhardt" Jazz Festival takes place in Samois, where Django lived the last years of his life.